Digital signage digitally complements the chalkboard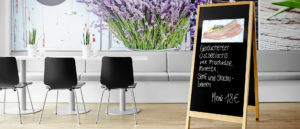 The visit to the restaurant is allowed again. However, in times of the Corona pandemic with some sensible conditions for the operator. These must be adhered to and, above all, communicated. Tasks for which digital signage is predestined: for example with a digital chalkboard.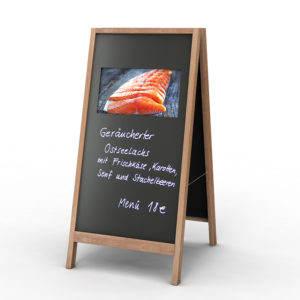 Analog and digital combined - the digital signage chalkboard from IAdea Germany.


Whether distance rules, seating arrangements, route guidance system or mask duty - depending on the localization, there are different protective measures that are intended to protect guests and staff in the catering trade from the risk of infection. With the digital chalkboard "DS Kundenstopper" from IAdea Germany, this can be automated via digital signage.
For this purpose, the chalkboard from the German digital signage pioneer combines the popular chalkboards with a 21-inch screen, integrated computer and software to create a complete package that is ready configured and ready for immediate use, which can be controlled via intuitive cloud software.
For example, the DS customer stopper welcomes guests and presents the highlights of the day in the reception area. While facts inform on the board, the images or videos on the screen appeal to the senses of the viewer. Or, as long as the Corona pandemic rules apply, all information about the rules that apply to the restaurant visit can be banned here. These can differ depending on occupancy, time of day, restaurant area, etc. Thanks to the universal digital signage software "DS Channel", hosted by IAdea Germany in German data centers, the numerous integrated templates can be used to create the information with text, images or video as required and, for example, display it according to the time of day.
DS customer stopper - classic design with modern digital signage features.
The chalkboard from IAdea Germany has a classic design and size: 63.5 cm x 144 cm. A high-quality 21.5-inch display for digital signage applications is integrated on the front. Both front and back can be labeled with standard chalk or the back can also be equipped with an advertising tension graphic.
IAdea Germany calls its digital chalkboard a digital signage customer stopper, or "DS customer stopper" for short, and not without reason. Because the classic chalkboard with integrated digital signage display can of course be used wherever important information or advertising needs to be transported in an attention-grabbing way, such as next to restaurants, hotels, boutiques, retail stores or as a fast and flexible solution in sznarios that want to address their visitors or customers with a personal and a nostalgic touch.
While the analog information is created with standard chalk, the digital information comes from the IAdea Germany Cloud, which allows content creation, control and playout at any time and from any location using the proprietary digital signage software "DS Cloud".
Backgrounder for the digital signage software "DS Channel" from the German cloud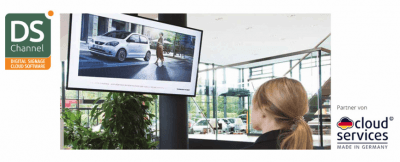 DS-Channel, the digital signage software of the IAdea Germany Cloud.
Content can be created, monitored and controlled conveniently and cost-effectively with IAdea Germany's own CRM system "DS-Channel", which is provided from the cloud in German data centers. DS-Channel is free of charge for the first three years, is hosted in the IAdea-Germany cloud and can be operated at any time from any location. These are among the most important benefits of cloud computing and why IAdea Germany provides its own native digital signage cloud communication platform with "DS-Channel".
DS-Channel can be used to control, manage and monitor individual media players, signboards or video walls, as well as to build extensive digital signage networks centered on the cloud.
The digital signage communication platform DS-Channel is free of charge for the first three years in connection with the DS-Channel media players, signboards, videowalls from IAdea Germany. After that, the license for DS-Channel costs only 36 euros per player and year.
The advantages of DS-Channel are manifold: All digital signage content is created centrally in the cloud via the content management system and played out from there to the corresponding media players via the playlists. Thus, no technical staff is required on site and the creation, control and monitoring of the content can be done from any location and at any time.
With DS-Channel, a central digital signage platform can be set up for almost any purpose across all industries. The underlying content management system of DS-Channel is so intuitive that even non-digital signage specialists can "conjure up" sophisticated content on their digital advertising spaces. The numerous ready-made design templates are also helpful. The robust media players support all common screen sizes and formats as well as kiosk systems and video walls.
In addition to the advantages of the cloud and its free connection as well as the intuitive content management system, DS-Channel offers numerous other benefits, including
the suitability for both single systems, small networks up to highly scalable cloud-centric digital signage networks with thousands of sites and displays,
the ability to play out campaigns with meta-data based scheduling,
intelligent, dynamic hot folders based on meta-data tagging for folders or content,
the creation of XML templates for importing data sources from other systems,
support for beacons with distance and motion sensors to switch content,
the creation of playout reports and overviews of device availability,
support for interactive kiosk applications,
additional widgets for weather or integration of social network channels and
a QR code generator to automatically display dynamic links as QR codes.
Dipl.-Kfm. Björn Christiansen, Managing Partner of IAdea Germany.

"The strengths of our media players, signboards and video walls come into their own with our next generation digital signage platform DS-Channel. Fail-safety, robustness and longevity of the hardware paired with the centralized and time as well as location-independent management from the cloud, massively reduces the effort for maintenance and care of a digital signage network and does not require specialized staff on site or for the creation and distribution of digital signage content," explains Kiel-based entrepreneur Dipl.-Kfm. Björn Christiansen. "This makes the new DS channel digital signage solutions from IAdea Germany ideally suited for enhancing the brand experience and improving consistent brand communication in stationary retail across all industries," Christiansen continues. The same applies equivalently for informing employees in larger corporate networks, for general information, for queue optimization or also generally for entertaining visitors in hotels, hospitals, restaurants or practices of any kind.