Flexible stele for digital signage applications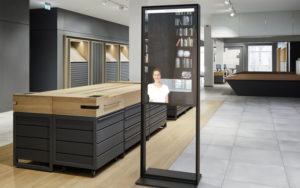 With the "DS Stele", German digital signage pioneer IAdea Germany presents a double-sided display system for information and advertising. The Stele is 195 cm high, 61.6 cm wide and 15 cm deep and houses a 43-inch touchscreen on both the front and back, which can be used to easily play out information or advertising from the IAdea Deutschland cloud.
Steles are ideal for information or advertising, as they can be flexibly positioned almost anywhere. Whether in retail, gastronomy or business - everywhere the stele is an eye-catcher that transports advertising or information in an eye-catching way. As a touch screen system, interactive digital signage applications can also be easily realized with the associated content management system "DS Channel".
Digital signage pedestal from IAdea Germany with 43-inch touchscreen on both sides.
In times of the Corona pandemic with the most different editions in the different industries, the DS Stele can be used in particular also as a wayfinding system, as a separator of different areas or simply as a flexible information panel, for example, to explain to customers the behavior during their visit to the location.
Corresponding content can also be intuitively created by non-digital signage professionals with the included content management system "DS Channel". The content management system is hosted in German data centers and can be operated independently of time and location.
Dipl.-Kfm. Björn Christiansen, Managing Partner of IAdea-Germany.
"The DS Stele provides product presentations with just the right, effective framework. Equipped on both sides with a 43-inch touch signboard, the stele achieves optimum external impact. Whether drugstore, fashion, car dealership or as a wayfinding system - the application possibilities of the portrait-format DS Stele are diverse and suitable for a wide range of content. The optional usability of the touch function opens up more scope for design and makes the DS Stele the ideal e-commerce solution at the point of sale," explains Dipl. Kfm. Björn Chistiansen, Managing Partner of IAdea Germany.
Backgrounder for the digital signage software "DS Channel" from the German cloud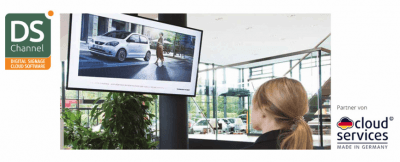 DS-Channel, the digital signage software of the IAdea-Germany-Cloud.
Content can be created, monitored and controlled conveniently and cost-effectively with IAdea-Deutschland's own CRM system "DS-Channel", which is provided from the cloud in German data centers. DS-Channel is free of charge for the first three years, is hosted in the IAdea-Germany cloud and can be operated at any time from any location. These are among the most important benefits of cloud computing and why IAdea Germany provides its own native digital signage cloud communication platform with "DS-Channel".
DS-Channel can be used to control, manage and monitor individual media players, signboards or video walls as well as to set up extensive digital signage networks centered on the cloud.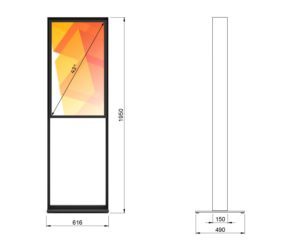 Digital signage pedestal - can be used flexibly in grocery stores, boutiques, car dealerships, waiting areas, restaurants or as a wayfinding system, among others.
The DS-Channel digital signage communication platform is free of charge for the first three years in conjunction with the DS-Channel media players, signboards, video walls from IAdea Germany. After that, the license for DS-Channel costs only 36 euros per player and year.
The advantages of DS-Channel are manifold: All digital signage content is created centrally in the cloud via the content management system and played out from there to the corresponding media players via the playlists. Thus, no technical staff is required on site and the creation, control and monitoring of the content can be done from any location and at any time.
With DS-Channel a central digital signage platform can be set up for almost any purpose across all industries. The underlying content management system of DS-Channel is so intuitive that even non-digital signage specialists can "conjure up" sophisticated content on their digital advertising spaces. The numerous ready-made design templates are also helpful. The robust media players support all common screen sizes and formats as well as kiosk systems and video walls.
In addition to the advantages of the cloud and its free connection as well as the intuitive content management system, DS-Channel offers numerous other benefits, such as
the suitability for both single systems, small networks up to highly scalable cloud-centric digital signage networks with thousands of sites and displays,
the ability to play out campaigns with meta-data based scheduling,
intelligent, dynamic hot folders based on meta-data tagging for folders or content,
the creation of XML templates for importing data sources from other systems,
support for beacons with distance and motion sensors to switch content,
the creation of playout reports and overviews of device availability,
support for interactive kiosk applications,
additional widgets for weather or integration of social network channels and
a QR code generator to automatically display dynamic links as QR codes.
"The strengths of our media players, signboards and video walls come into their own with our next generation digital signage platform DS-Channel. Fail-safety, robustness and longevity of the hardware paired with the centralized and time as well as location-independent management from the cloud, massively reduces the effort for maintenance and care of a digital signage network and does not require specialized staff on site nor for the creation and distribution of the digital signage content," explains Kiel-based entrepreneur Dipl.-Kfm. Björn Christiansen. "This makes the new DS channel digital signage solutions from IAdea Germany ideally suited for enhancing the brand experience and improving consistent brand communication in stationary retail across all industries," Christiansen continues. The same applies equivalently for informing employees in larger corporate networks, for general information, for queue optimization or also generally for entertaining visitors in hotels, hospitals, restaurants or practices of any kind.