LED video walls of any size and resolution with digital signage software from the cloud
IAdea Germany expands its portfolio with LED video walls from Expromo and integrates them into its own cloud digital signage software. This allows any LED video wall from the Danish manufacturer for retail, hospitality, education or corporate use to be controlled centrally from the IAdea Germany cloud.
Expromo is known for high-end LED video walls for conference rooms, TV and video studios, retail, sports stadiums as well as for design video walls of any kind. This is because the videowalls can be customized in shape, size and resolution to meet individual customer requirements. Recently, the Danish video wall manufacturer has also attracted attention with the first solar-powered LED display and the first 1.5 mm fine-pixel pitch LED module with a brightness of 4000 nit.
Now IAdea Germany is also bringing this innovative edge to the German market, especially with the integration into its own cloud made in Germany and the powerful cloud-based content management system "DS-Channel" of the German digital signage pioneer.
Dipl.-Kfm. Björn Christiansen, Managing Partner of IAdea Germany.
"To boost sales again after the Corona crisis, visual stimuli are needed in retail, among other things. These can be presented innovatively in form, resolution and content with the Expromo solutions centrally from the cloud. Another advantage in times of relaxed lockdown: For example, all information or regulations that are currently mandatory when entering a store can be displayed," explains Dipl.-Kfm. Björn Christiansen, Managing Partner of IAdea Germany,
Highlights of Expromo LED video walls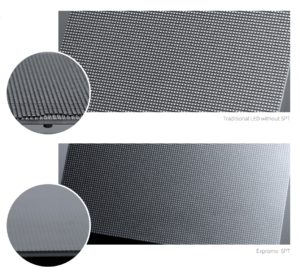 The Surface-Protection-Technology seals the surface of the videowalls.
Expromo's Surface Protection Technology, or SPF for short, is a surface protection technology that seals the display surface of the video walls. This prevents damage to the LEDs that can be caused by cleaning or splashing water. Due to the more robust and smooth surface, the LED displays are also protected against dust.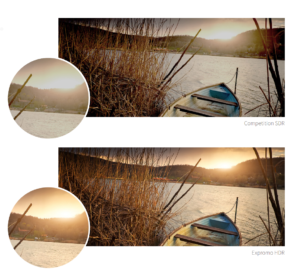 The High-Definition-Resolution-Technology from the IAdea Germany partner Expromo provides more and more brilliant colors.

Using its proprietary High-Definition-Resolution technology, or HDR for short, Expromo achieves a much higher dynamic range for its LED video walls. Instead of conventional SDR displays with 256 levels of each color, Expromo-HDR achieves up to 4096 levels of each color with significantly improved intensity resolution. Bottom line: up to 16 times more color than conventional LED displays.
Expromo-Any-Format-Display-Solution supports any custom format.

Most display technologies are limited to 16:9 format. Expromo-Any-Format-Display-Solution, short AFDS, however, supports any custom format, for example to combine different display sizes or to integrate displays into existing or special "fixtures". In addition, any screen size in particular can be customized in any format and resolution.
Furthermore, as part of the environmentally friendly process, Expromo is WEEE certified, ensuring producer responsibility for the disposal and recycling of electronic waste.
Digital signage software from the German cloud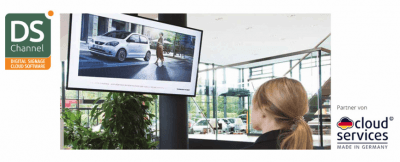 DS-Channel, the Digital Signage Software of IAdea-Germany Cloud.
Content can be created, monitored and controlled conveniently and cost-effectively with IAdea-Deutschland's own CRM system "DS-Channel", which is provided from the cloud in German data centers. DS-Channel is free of charge for the first three years, is hosted in the IAdea-Germany cloud and can be operated at any time from any location. These are among the most important benefits of cloud computing and why IAdea Germany provides its own native digital signage cloud communication platform with "DS-Channel".
DS-Channel can be used to control, manage and monitor individual media players, signboards of the latest cloud generation from IAdea Deutschland as well as the LED video walls from Expromo, which have been newly added to the portfolio, as well as to set up extensive digital signage networks centered on the cloud.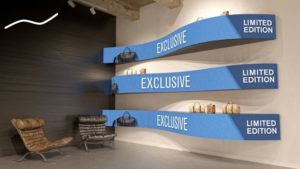 With the Expromo partnership, IAdea Germany also meets fancy design requirements.
The DS-Channel digital signage communication platform is free of charge for the first three years in conjunction with the DS-Channel media players, signboards, Expromo video walls from IAdea Germany. After that, the license for DS-Channel costs only 36 euros per player and year.
The advantages of DS-Channel are manifold: All digital signage content is created centrally in the cloud via the content management system and played out from there to the corresponding media players via the playlists. Thus, no technical staff is required on site and the creation, control and monitoring of the content can be done from any location and at any time.
With DS-Channel, a central digital signage platform can be set up for almost any purpose across all industries. The underlying content management system of DS-Channel is so intuitive that even non-digital signage specialists can "conjure up" sophisticated content on their digital advertising spaces. The numerous ready-made design templates are also helpful. The robust media players support all common screen sizes and formats as well as kiosk systems and video walls.
In addition to the advantages of the cloud and its free connection as well as the intuitive content management system, DS-Channel offers numerous other benefits, including
the suitability for both single systems, small networks up to highly scalable cloud-centric digital signage networks with thousands of sites and displays,
the ability to play out campaigns with meta-data based scheduling,
intelligent, dynamic hot folders based on meta-data tagging for folders or content,
the creation of XML templates for importing data sources from other systems,
support for beacons with distance and motion sensors to switch content,
the creation of playout reports and overviews of device availability,
support for interactive kiosk applications,
additional widgets for weather or integration of social network channels and
a QR code generator to automatically display dynamic links as QR codes.
"The strengths of our media players and signboards come into their own with our next generation digital signage platform DS-Channel. Fail-safety, robustness and longevity of the hardware paired with the centralized and time as well as location-independent management from the cloud, massively reduces the effort for maintenance and care of a digital signage network and does not require specialized staff on site nor for the creation and distribution of the digital signage content," explains Kiel-based entrepreneur Dipl.-Kfm. Björn Christiansen. "This makes the new DS channel digital signage solutions from IAdea Germany ideally suited for enhancing the brand experience and improving consistent brand communication in stationary retail across all industries," Christiansen continues. The same applies equivalently for informing employees in larger corporate networks, for general information, for queue optimization or also generally for entertaining visitors in hotels, hospitals, restaurants or practices of any kind.